Missions
ABOUT OUR MINISTRIES AND MISSIONS
Across The Streets, Across The States, Across The Seas
Matthew 28:19-20 states, "Go therefore and make disciples of all the nations, baptizing them in the name of the Father and the Son and the Holy Spirit, teaching them to observe all that I commanded you; and lo, I am with you always, even to the end of the age."
We want you to know about Good Shepherd's part in fulfilling the command of Jesus to proclaim the gospel message. Our Missions Team at Good Shepherd exists to support, encourage, inform, and participate in efforts to fulfill the great commission around the world and in our local community. We support and encourage missions work "Across the streets" (local), "Across the states" (national), and "Across the seas" (global).
Good Shepherd partners with a number of different missionaries, supporting them in prayer and in some cases financially. As a church, we are intentional about encouraging the work of the following missionaries and ministries:
Across The Streets (local):
InterVarsity Christian Fellowship at CSU-Channel Islands
Young Life – Camarillo
Ventura County Rescue Mission
Food Share of Ventura County
Tri-County/Ventura Teen Challenge
Across The States (national):
AFLC Home Missions (church planting)
AFLC Alaska Mission
Across The Seas (global):
AFLC World Missions
Brazil – Paul and Becky Abel
Brazil – John and Hannah Lee
Paraguay – Mafu and Ednay Abel
Australia – Ryan and Joy Reiter
Czech Republic – English Language Camp
Please join us in praying for all of those mentioned above.
Stay tuned for exciting information from the mission fields across the streets, across the states, and across the seas!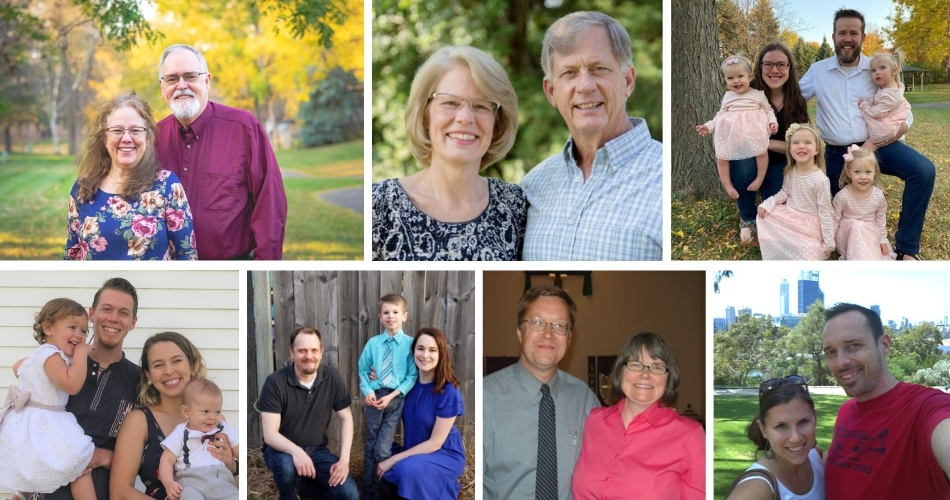 Top row, Left to Right: Margaret & Bob Lee, Becky & Paul Abel, Hannah & John Lee
Bottom row, Left to Right: Mafu & Ednay Abel, Jeremy & Lacey Crowell, Jeff & Jane Swanson, Joy & Ryan Reiter